Super Mega Yachts
in Antigua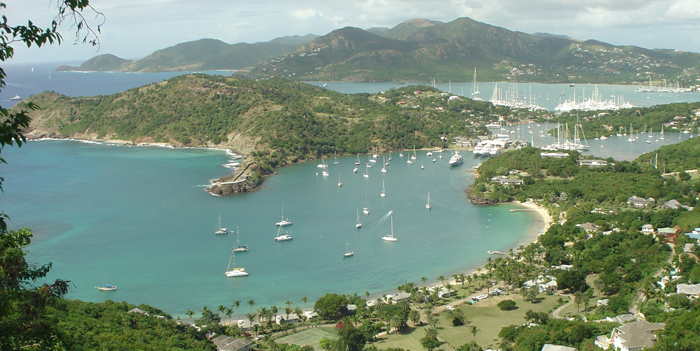 Antigua means "ancient" in Spanish and named by Christopher Columbus. Antigua has a population of 69,000. Their capital St Johns is the home of the cruise ship industry. The airport is VC Bird International airport.

English Harbor on the south-eastern coast is famed for its protected shelter during violent storms. It is the site of a restored British colonial naval station called "Nelson's Dockyard" after Captain Horatio Nelson. Today English Harbor and the neighboring village of Falmouth are internationally famous as a yachting and sailing destination with provisioning centre for all luxury mega yacht rental vessels. These 2 harbors host the Annual charter brokers yacht show during the first or second week of December each year. They also host the famous "Antigua week" at the end of April, which is a world-class regatta bringing sailors from all over the world to have fun competing together. Immediately after the Antigua boat week sailors wanting to sail home to the Mediterranean leave in flotilla form to cross the Atlantic.

Christopher Codrington guided development on Antigua as a profitable sugar colony. For a large portion of Antigua history, the island was considered Britain's "Gateway to the Caribbean". It was located on the major sailing routes among the region's resource-rich colonies. Lord Horatio Nelson, a major figure in Antigua history, arrived in the late 18th century to preserve the island's commercial shipping prowess.

According to A Brief History of the Caribbean, European and African diseases, malnutrition and slavery eventually destroyed the vast majority of the Caribbean's native population. No researcher has conclusively proven any of these causes as the real reason for the destruction of West Indian natives. In fact, some historians believe that the psychological stress of slavery may also have played a part in the massive number of native deaths while in servitude. Others believe that the reportedly abundant, but starchy, low-protein diet may have contributed to severe malnutrition of the "Indians" who were used to a diet fortified with protein from sea-life.

Slavery
Sugar became Antigua's main crop from about 1674, when Christopher Codrington settled at Betty's Hope Estate. He came from Barbados, bringing the latest sugar technology with him. Betty's Hope, Antigua's first full-scale sugar plantation, was so successful that other planters turned from tobacco to sugar. This resulted in their importing tens of thousands of slaves, as sugar cultivation and processing was labor intensive.

According to A Brief History of the Caribbean, many West Indian colonists initially tried to use Indians and whites as slaves. Unfortunately, these groups succumbed easily to disease and/or malnutrition, and died by the thousands. The African slaves had the misfortune of adapting well to the new environment; and thus became the number one choice of "unpaid labor." In fact, the slaves thrived physically and also provided medical services, and skilled labor, such as carpentry for their slave masters.

Today, collectors prize the uniquely designed "colonial" furniture created by West Indian slaves. Many of these works feature what are now considered "traditional" motifs, such as pineapples, fish and stylized serpents.

Horatio Lord Nelson
Horatio Nelson, 1st Viscount Nelson, was Senior Naval Officer of the Leeward Islands from 1784 to 1787 on H.M.S. Boreas. During his tenure, he tried to enforce the Navigation Acts. These acts prohibited trade with the newly formed United States of America. Most of the merchants in Antigua depended upon American trade, so many of them despised Lord Nelson. As a result, he was unable to get a promotion for some time after his stint on the island.

Conversely, the British considered Nelson a hero.

The Americans were at this time trading with Antigua and Barbuda, taking advantage to register of their ships, which had been issued while they were British subjects. Nelson knew that, by the Navigation Act, no foreigners, directly or indirectly, are permitted to carry on any trade with these possessions. He knew, also, that the Americans had made themselves foreigners with regard to England; they had disregarded the ties of blood and language when they acquired the independence which they had been led on to claim, unhappily for themselves before they were fit for it; and he was resolved that they should derive no profit from those ties now. Foreigners they had made themselves, and as foreigners they were to be treated.

A dockyard started in 1725, to provide a base for a squadron of British ships whose main function was to patrol West Indies and thus maintain Britain's sea power, was later named "Nelson's Dockyard" in his honor.

Political status
In 1967, with Barbuda, and the tiny island of Redonda as independencies, Antigua became an associated state of the Commonwealth, and in 1981 it was disassociated from Britain. The country was then led by what many describe as an elected family dynasty, with Vere C. Bird, the first prime minister, having been succeeded in 1993 by Lester B. Bird, his son, who retained the post until 2004.

The anchorages of Antigua.
English Harbor, Falmouth Harbor, Carlisle Bay, Curtain Bluff, Jolly Harbor, Deep Bay, Little Sister and Dickens Bay, Parham harbor, Guana Island, Nonsuch Bay, Green Island, Willoughby Bay and Barbuda.


Here is an example itinerary from Jerry Blair the captain of 56' Catamaran Braveheart a very accomplished and charming captain.

SAMPLE ITINERARY ANTIGUA AND BARBUDA

The true potential of Antigua as a chartering venue has never been fully appreciated. With beautiful anchorages amongst 365 beaches, which Antigua is widely known for, and the nearby island of Barbuda, a natural bird sanctuary, you will be sure of a great super yacht vacation in paradise.

Day 1 – Your voyage begins at the historic English Harbor, once the main anchorage in Nelson's time for the British West Indies squadron. With a display of magnificent yachts, and an active social scene of restaurants, it will easily get you into the holiday mood. A Sunday visit to the famous Shirley Heights Lookout Bar & Restaurant & BBQ where a steel band plays till sunset is a must. With a local reggae band you can dance the night away with the best panoramic views to add to your postcard of memories.

Day 2 – Downwind sail out of English Harbor to Carlisle Bay, a palm lined white sandy beach. After a swim and leisurely lunch set the sails towards Cades reef, sailing in crystal clear shallow waters. Then your super yacht charter takes you further up the west coast to anchor at Five Islands Bay, where there is no sign of habitation and un-spoilt beaches. Further on is Deep Bay where the Andes wreck lies, this is an exciting snorkeling spot. Enjoy a tranquil evening aboard Braveheart or revel away the night at the Royal Antiguan Casino Hotel, dancing and enjoying the music.

Day 3 – Sailing along the west into Dickinson Bay is a perfect place to partake in the variety of water sports Braveheart has available like windsurfing, kayaking, water-skiing, wakeboarding and tubing, With a choice of restaurants lunch can be taken ashore in the shade of a palm covered beach restaurant. Return to Braveheart for cocktails watching a breathtaking sunset.

Day 4/5 – With a steady wind on the beam Braveheart sails out into the open waters to the island of Barbuda. An island dedicated to the heart of nature and is heaven on earth. In 1691 the Codrington family leased the island from Britain for one fat sheep and imported slaves. The shores offer unique snorkeling with living brown coral. Home to a natural bird sanctuary Barbuda has an unusually large frigate bird colony. There are endless pale pink beaches some stretching 11 miles. A stop over of 2 nights is recommended to do this wonderful island justice.

Day 6 - With a reach back down the east coast Braveheart arrives at Green Island, anchoring in the solitude of Rickett Harbor, an exclusive bay. You are encouraged to take a dinghy ride and explore Nonsuch bay, or relax under the shade of a palm tree in the Garden of Eden, surely one of the most idyllic beaches in all the Caribbean.

Day 7 – Braveheart returns you to English Harbor on a journey totally impossible to forget with wonderful memories.

Every anchorage in Antigua and Barbuda is characterized by beautiful clear waters and beaches. This island jewel, set in the heart of the Caribbean, fulfills the image of a perfect tropical paradise. Seven days is barely sufficient to enjoy the multitude of things to do and places to see. We look forwards to you joining us for the ideal prestige yacht vacation of your life on board the catamaran Braveheart.


The Ultimate Motor Yacht Charter Experience. 
"Ultimate Privacy. Ultimate Hospitality. Ultimate Privacy. Ultimate Intimacy.
Watch our Corporate Video to see for yourself the level of service we and the crews provide to you, our valued clients.  We are dedicated to delivering on our promises of the highest quality of luxury yachts and effortless service.
Watch The Video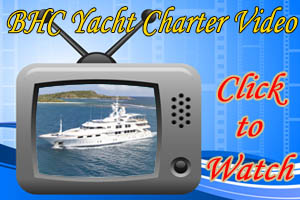 See our yacht videos on
YouTube
.